Deliver Patient Price Estimates, Improve Your Bottom Line
The modern healthcare consumer is demanding access to trustworthy, relevant pricing information via easily accessible digital technology. Not only do they want price transparency into out-of-pocket costs so they can avoid surprise medical expenses and make better-informed decisions about their healthcare options, they want to shop for healthcare like they do a variety of other services.
The digital technology to empower patients is out there, but many healthcare providers are not providing consumers with transparency into the cost of their care. By leveraging patient cost estimation tools, you start the conversation with patients around payment earlier and create a more consumer-centric financial experience.
How To Effectively Deliver Patient Estimates
Patients want to know the answer to a simple question, "how much do I owe?" The only way to answer that question, in a consumer-friendly way that meets patient needs and improves your hospital's bottom line, is with accurate estimates of patients' out-of-pocket costs.
AccuReg offers both staff-facing and patient self-service price estimation tools that share the same data to deliver consistent estimates:
Contact Us for Patient Estimation
VP of Revenue Cycle Management goes "one step beyond" price transparency with Estimate My Cost®
Patient Access Director explains how Payment Estimation provides up-front transparency and prevents surprises
Why Choose AccuReg Patient Estimation Software
As a leading provider of patient estimate software and solutions for healthcare, AccuReg developed Price Estimation and Estimate My Cost to improve patient satisfaction and help hospitals collect more cash—not just to meet government requirements.
With the ability to generate either self-pay estimates or patient price estimates for services using insurance information and real-time deductible information, our patient cost estimation solutions:
Use your negotiated contract rates along with historical claims analysis to begin the estimate process
Analyze real-time eligibility transaction data to validate service-level benefit coverage including the relevant co-pays and co-insurance
Factor in up-to-the-minute deductible balances, which enable AccuReg to deliver highly accurate prices estimates.
Conduct pattern analysis to determine actual services provided and compare that to estimates to predict even more accurate estimates
Deploy real-time alerts and scripting, within our work queue, to help your hospital staff communicate out-of-pocket cost obligations and process payments
Utilize our proprietary intelligent workflow and rules engine platform to deliver the most comprehensive accurate estimates that give your patients insight to their actual out-of-pocket costs
The Benefits of Offering Patient Payment Estimates
When your hospital uses AccuReg Patient Estimation and Estimate My Cost software to offer patients price estimates, you:
Give patients accurate estimations of their actual out-of-pocket costs and improve patient financial experience
Collect more cash up-front, reduce burden on your staff and help avoid back-end collections and bad debt
Help comply with Final Rule requirements by leveraging chargemaster, payer contract terms, claims history and patient insurance benefits
Incorporate AI, to consider claims history and predict what associated procedures will likely occur in conjunction with scheduled procedures
Retain and attract more patients (and revenue) by offering accurate and simple to use out-of-pocket patient cost estimates
Provide patients with reference numbers or print copies to verify accuracy at POS
Leverage the same data for both solutions to ensure consistency and avoid discrepancies between the estimates your staff provides and what patients self-service
AccuReg staff-facing Payment Estimation and patient self-service Estimate My Cost help hospitals communicate out-of-pocket obligations and secure more revenue up-front, when your chances of collecting are the greatest and the cost is the lowest. Change the way your hospital starts the conversation around payment. Contact our team by completing a contact request form or calling us direct at 866-872-7498.
Features
Accurate Out-of-Pocket Cost Estimates
Convenient Patient Self-Service Estimates via Hospital Website
Mobile Optimized and User-Friendly
Self-Service and Staff Estimates Linked by Unique Reference Code
Pre-Service/POS Collections via Included Payment Processing
Contract-Based Estimates
Service-Specific Benefit Coverage Validation Including Co-Pay and Co-Insurance
Real-Time Deductible Balance Calculation
Real-Time Alerts and Scripting for Collection Opportunities
Staff Performance Tracking and Reporting
Integrated Staff Training and Testing
Hospital-Branded
Outcomes
Increase Pre-Service Cash Collections
Reduce Lost Revenue From Patient Non-Payment
Reduce Avoidable Write-Offs
Reduce Back-End Cost to Collect
Reduce Operations Burden
Increase Staff Efficiency and Effectiveness
Increase Staff Productivity by Allowing Patients to Create Estimates
Improve Patient Satisfaction and Enhance Patient Financial Experience
Payment Expectation Preparedness for Patient
Deliver Virtual Patient Access Experience
Enhance Brand Reputation and Competitive Advantage
Attract New Patients and Retain Existing Patient Volume
AccuReg automates eligibility, quality auditing, estimation and real-time feedback of deficiencies in the registration process. Their suite is fully integrated for the front end and it saved our organization time and money by providing an accurate, streamlined process for our registration clerks.

Deonne Henry
Vice President Revenue Cycle, Magnolia Regional Health Center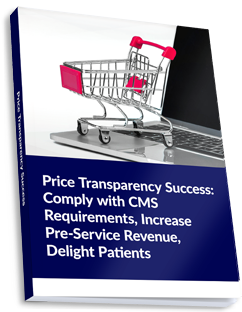 Price Transparency Success: Comply with Requirements, Increase Pre-Service Revenue, Delight Patients
Learn More About Payment Estimation With These Related Resources: