Get the Full Story
Best in KLAS® for Patient Access
AccuReg Ranked #1 2021

Awarded for industry-leading patient access/front-end focused revenue cycle management solution that maximizes hospital net revenue

Learn More

• digital front door
• virtual waiting room
• appointment reminders
• electronic forms and signatures
AccuReg Now Offers Digital Patient Intake and Engagement
Proven technology increases patient safety and net revenue with:

Get the how-to guide for meeting compliance, increasing cash and delivering patient estimates.

Get the eBook
Price Transparency Success: Comply with Requirements, Increase Pre-Service Revenue, Delight Patients
Hospitals who use a front-end focused revenue cycle solution are proven to increase net patient revenue, prevent denials before they happen and collect more cash pre-service.
$3B
Value of denials avoided annually by AccuReg clients
$175M
Labor expense eliminated each year working denied payments
300%
Average one year increase in pre-service cash collections for a typical AccuReg customer
Improved Net Revenue and Patient Experience Start at the Front-End of the Revenue Cycle.
Start better by correcting errors before they waste time and cost you more. AccuReg brings a unique predict and prevent approach to Revenue Cycle Management. Our front-end revenue cycle software uses artificial intelligence for healthcare, including machine-learning, predictive analytics and intelligence-based workflows to allow staff to solve revenue cycle challenges before they start. From reducing front-end denials and rework cost to increasing POS collections, first-pass payment rate and patient financial experience. We Focus Solely on the Front-End. Where Revenue Starts. And Better Outcomes Begin.
We call it Front-End Revenue Cycle Intelligence™.
Revenue Cycle VPs: Eliminate front-end hang-ups and capture more revenue with our streamlined, automated revenue cycle processes.
Hospital Financial Impact
Chief Financial Officers: Improve your hospital's financial health by capturing revenue on the front-end that may otherwise be lost forever.
Manage Patient Intake, Flow and Engagement with One Integrated, Web-Based Solution
Price Transparency Success:
Comply with Requirements, Increase Pre-Service Revenue, Delight Patients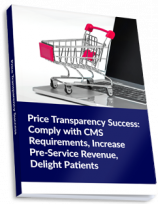 Get the How-To Guide for Meeting Compliance, Increasing Cash and Delivering Patient Estimates
Learn why adopting a virtual patient engagement model and giving patients access to accurate estimates of out-of-pocket costs is not only the right thing to do for patients, it drives increased pre-service revenue and decreased costs at your hospital.